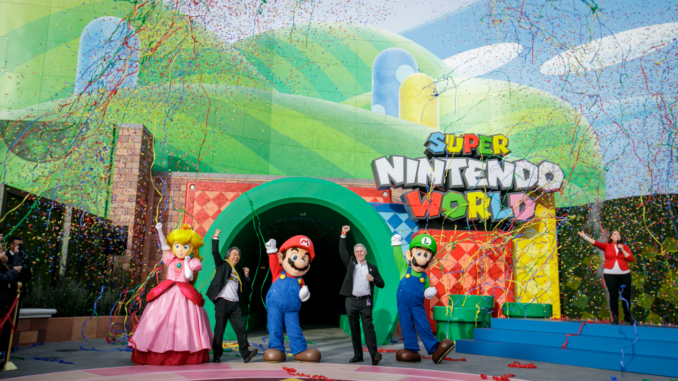 SUPER NINTENDO WORLD has taken over Universal Studios Hollywood, and it is "game on!" From interacting with your favorite Super Mario characters, to dodging Bowser, and collecting coins and power ups along the way – Super Nintendo World is fun for all ages.
"This is truly one of the most dynamic moments in the history of Universal Studios Hollywood," Scott Strobl, Executive Vice President & General Manager, Universal Studios Hollywood previously shared. "We are very proud of our partnership with Nintendo to bring to life a new genre of highly immersive, next level interactive theme park entertainment."
The immersive space has exhilarating games and unique ways to keep visitors engaged from the moment they enter. For good reason as the waits for the main attraction, Bowser's Challenge will have a wait of 90-120 minutes (trust me, it's worth the wait). While we won't give away the main attraction (and rave about the high-tech component) we will provide a few tips to prep for your adventure ahead!
USH allows guests to purchase a pass to enter Super Nintendo World an hour before the park officially opens. For $20.00, this may be worth it for some to gain entry prior to the large crowds. There is still plenty of hype surrounding this experience so this may be the way to get a head start. When entering, make your way directly to Bowser's Challenge. The line for the ride may get longer throughout the day. It's best too line up as early as possible if you've purchased the early entry pass.
Upon entering the park, park goers are able to enter a virtual queue for select rides. This will significanly assist with planning the rest of your day! If the wait time for Bowser's Challenge falls below 90 minutes – it's a win! Line up for the ride and enjoy Mushroom Kingdom AFTER the ride.
Make reservations for Toad Cafe early.
If you're hoping to sneak a peak at the cute Toad Cafe, plan ahead! While entry into the land can occur, you'll need a separate reservation to catch aa glimpse of Toad Cafe! If you're unable to make a reservation ahead, don't fret! Continue to check during your time at Mushroom Kingdom, a reservation just may open. Check often as these will disappear quickly! The land's signature restaurant Toadstool Cafe serves a delicious menu perfected by Chef Toad where he greets guests upon entry. Menu items prepared fresh daily include Toadstool Cheesy Garlic Knots, Super Mushroom Soup, Piranha Plant Caprese, Mario Bacon Cheeseburger, Luigi Pesto Chicken Burger, ? Block Tiramisu and Princess Peach Cupcake.
Purchase a power-up band to FULLY enjoy
Purchase a power up band that syncs to the official Universal Studios Hollywood's free downloadable app to level-up the guest experience within the land and enhance its many interactive elements. These include, but are not limited to, keeping individual and team scores, collecting digital coins and obtaining keys after winning Key Challenges throughout the land. When riding "Mario Kart™: Bowser's Challenge," guests are encouraged to tap their Power-Up Band on the ride vehicle's steering wheel. By doing so, they can track digital coins collected as well as gauge their ranking against friends and family, when synced to the app. The Power-Up Band will enable guests to enjoy "Mario Kart: Bowser's Challenge" over and over again in an attempt to beat their best scores. Guests with a Power-Up Band may enjoy an enhanced experience when meeting Mario, Luigi and Princess Peach. They are available in six design options with character themes and can be purchased both within the land and at SUPER NINTENDO WORLD retail shops located within the theme park and on Universal CityWalk Hollywood.
Gaining access to the highly anticipated Super Nintendo World is well worth it. While there, take yur time and take advantage of the many interactive gameplay that awaits. Within the land, guests can enjoy many interactive areas, including punching ? Blocks to collect digital coins. They will discover a new dimension of SUPER NINTENDO WORLD via the interactive binoculars positioned within the land, employing augmented reality technology. Guests can also collect keys after winning the Key Challenges from Goomba Crazy Crank, Koopa Troopa POWer Punch, Piranha Plant Nap Mishap and Thwomp Panel Panic – collecting at least three keys will ultimately allow access to the final boss battle with Bowser Jr.
Undoubtedly Universal Studios Hollywood brings action packed entertainment paired with top-tier graphics and experiences, and Super Nintendo World proves to be a step above the rest. Upon entering the infamous green pipes into Mushroom Kingdom, guests will automatically be transported to their favorite video games. The journey begins by entering Peach's Castle before venturing further into the colorful Mushroom Kingdom and is purely magical.
The land is truly one of a kind, VERY well done, and will engage every sensation and core memories! From the moment guests pass through the iconic green pipe, a journey filled with exploration, discovery and play awaits that is unlike anything they've ever experienced.