Hans Christian Andersen's The Snow Queen, has a magic quality whether presented as a dance, a play, inspiring "Frozen", or with puppets as a launch for The House Theatre of Chicago's 20th Anniversary Season. This is an all-new wintertime tradition, a boldly reimagined staging of Hans Christian Andersen's beloved fable, The Snow Queen, playing until January 2 at the Chopin Theatre, 1543 W. Division St., Chicago.
The story which has been adapted by new House Theatre Artistic Director Lanise Antoine Shelley, and directed by AmBer D. Montgomery, with magic by Dennis Watkins and puppets by Jesse Mooney-Bullock, holiday audiences will warm right up to this heartfelt winter fantasy adventure.
The story begins when the Snow Queen shares her magical mirror with cousins Kai and Quin. Her world is thrown into chaos, triggering a wintry race against time to conquer mankind's heartache that is ravaging the earth. Along the way, audiences meet an unforgettable host of vivid characters, heroes, and animals as the Snow Queen attempts to undo the pain that she herself has woven.
The House has formed a stellar company to tell Hans Christian Anderson's classic tale, infused with the company's hallmarks of magic, puppetry and music, with a fresh focus on the Snow Queen's seasonal relationships with the earth, and the magical power she is learning to wield. The cast features Molly Brennan (Womoon/Grandmother), Vero Maynez (Chione), Christine Mayland Perkins (River), Jackie Seijo (Quin), Thomas Tong (Harpier) and Vincent Williams (Kai).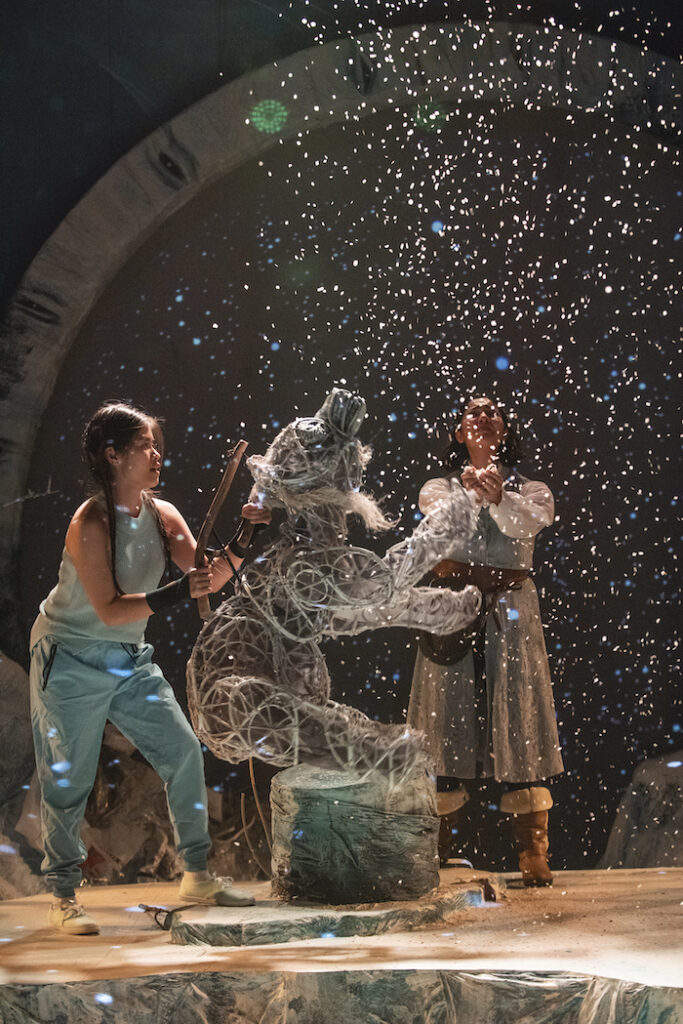 The production team is Lanise Antoine Shelley, adaptor; AmBer Montgomery, director; Sully Ratke, scenic and costume design; Trey Brazeal, lighting design; Olanrewaju Adewole and Kevin O'Donnell, sound design and composition; Liviu Pasare, video design; Dennis Watkins, magic design; Jesse Mooney-Bullock, puppet design; Caitlin McCarthy, properties design; Hallie Gordon, creative producer; Derek Matson, dramaturg; Molly Brennan, accessibility coordinator; Matthew Yee, animation; and, Ben F. Locke, casting consultant.
As my guest and I watched this show, we were mesmerized. The show is clever, beautiful and magical. The acting was engaging, the puppets were remarkable, as was the staging. And there is a wonderful secret about the broken mirror that you can only learn about by attending. I highly recommend that you do just that.
The Snow Queen, a classic winter tale of redemption and hope, and ultimately, a celebration of all seasons, is ideal for ages 8 and up. Tickets, $20-$50, are on sale now at thehousetheatre.com. Groups of 10 or more can save up to 20 percent. Email [email protected] to organize a group visit to The House.
The Snow Queen is presented in the Chopin Theatre Upstairs Mainstage, 1543 W. Division St., in Chicago's Wicker Park neighborhood. 
SPECIAL PERFORMANCE TIMES: Additional performances are Sunday November 28 at 7:30 p.m., Wednesday, December 15 at 7:30 p.m., Wednesday, December 22 at 3 and 7:30 p.m., Sunday, December 26 at 7:30 p.m., Wednesday, December 29 at 7:30 p.m., and Thursday, December 30 at 3 p.m. No performances on Thursday, November 25 (Thanksgiving), Friday, December 24 (Christmas Eve), Saturday, December 25 (Christmas Day), or Friday, December 31 (New Year's Eve).
ACCESS SERVICES: Open Captioning will be offered on Sunday, November 28 at 7:30 p.m. and Saturday, December 11 at 3 p.m. Relaxed/Sensory-Friendly performances are Saturday, December 4 at 3 p.m. and Saturday, December 18 at 3 p.m. A Touch Tour and Audio Description will be offered Wednesday, December 15 at 7:30 p.m.
COVID SAFETY POLICY: The House has joined a coalition of more than 60 performing arts venues and producers across Chicagoland that have agreed upon Covid-19 Vaccination and Mask Requirements for audiences through the end of 2021. This unified COVID-19 protection protocol requires audience members to provide proof of vaccination or negative test certification upon entry and to wear masks, regardless of vaccination status. The House and its performers, backstage crew and staff will comply with vaccination requirements and testing protocols to further ensure the safety of all guests and company members. The House will make accommodations for children under 12 and people with a medical condition or closely held religious belief that prevents vaccination. Please visit thehousetheatre.com/health-and-safetyfor more information, or email [email protected] for more information.
The Snow Queen production sponsors are Scott Hughes, David Shapiro and Timothy Sherck.