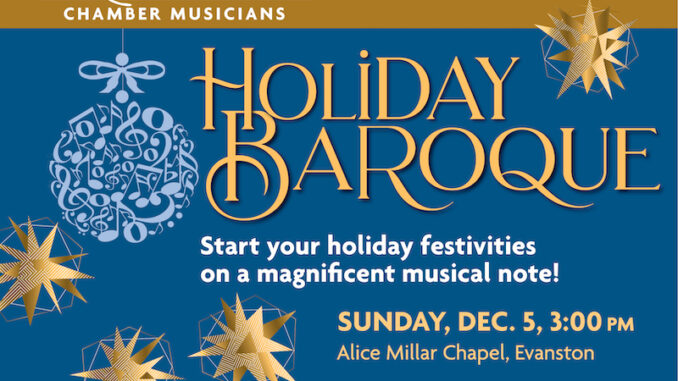 Rembrandt Chamber Musicians returns with their beloved Holiday Baroque concert featuring spectacular guests and seasonal classics as their 2021-2022 season continues live and online in Alice Millar Chapel.
Guest artists include Stephen Alltop, Josefien Stoppelenburg, Ian Hallas, Ann Palen, and CSO members Yuan-Qing Yu, Qing Hou, and Kenneth Olsen.
You are sure to enjoy the Rembrandt Chamber Musicians, Chicago's premiere ensemble focused on classical and adventurous new chamber musical works, at their annual holiday concert, "Holiday Baroque". It is presented live on Sunday, December 5, 2021 at 3:00 pm at Northwestern University's Alice Millar Chapel. The concert will also be streamed on their YouTube channel. Alice Millar is renowned for resonant acoustics perfectly suited to the sounds of the Baroque repertoire, and for its beautiful stained-glass windows fashioned fifty years ago this year by master artisan Benoît Gilsoul. This year's Holiday Baroque concert features works of Corelli, Charpentier, Vivaldi, and Bach, classics that surely capture the spirit of the season.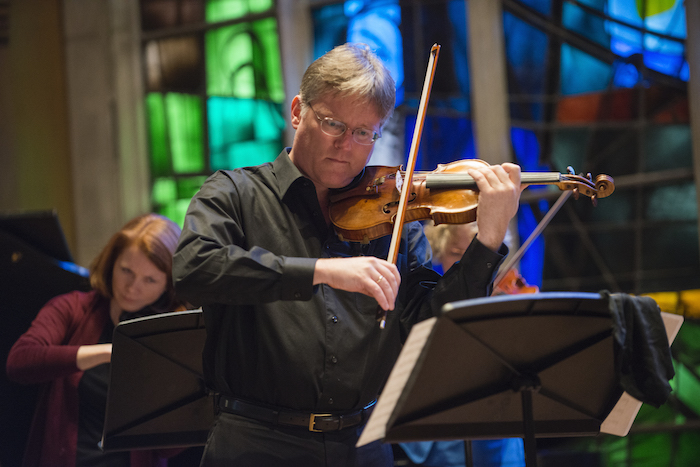 Long-time Rembrandt ensemble members John Macfarlane, Carol Cook, and Calum Cook will be joined by some of the ensembles most frequent collaborators and some of Chicago's finest musicians. Guest artists include soprano Josefien Stoppelenburg; harpsichordist Stephen Alltop; Chicago Symphony Orchestra Assistant Concertmaster, CSO violinist Qing Hou; and Lyric Opera Orchestra violinist Ann Palen and bassist Ian Hallas. 
BACH: Prelude and Fugue in G Major, BWV 541
MONTEVERDI: Laudate dominum in sanctis eius, SV 287
Marco UCCELLINI: Aria sopra "La Bergamasca"
CORELLI: Concerto Grosso in G Minor, "Christmas Concerto"
BACH: Preludio from Violin Partita No.3 in E Major, BWV 1006
CHARPENTIER: In nativitatem Domini canticum, H. 416: Nuit
VIVALDI: The Four Seasons, Violin Concerto in F minor, RV 297, "Winter"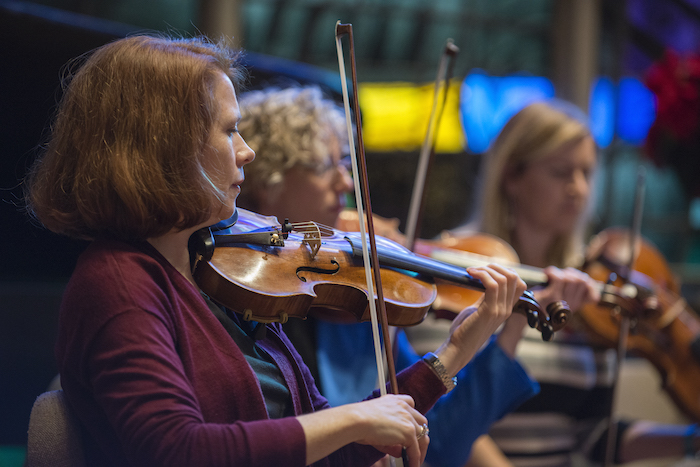 About Rembrandt Chamber Musicians
Founded in 1990, Chicago-based Rembrandt Chamber Musicians perpetuates classical chamber music as an accessible, engaging, and deeply personal living art form by presenting world-class performances of well-known masterworks and hidden gems from the Baroque period to the present; collaborating with guest artists; commissioning composers to create new musical works; and supporting young musicians through an annual high school chamber music competition and educational outreach initiatives. Rembrandt Chamber Musicians features principal members of the Lyric Opera of Chicago as core members of the ensemble. For more information, visit www.rembrandtchambermusicians.org Rembrandt Chamber Musicians
Alice Millar Chapel, Evanston, IL
Ticket Information
General admission tickets to Rembrandt Chamber Musicians concerts are $41. Full season subscriptions to RCM's 2021-2022 season begin at $160, a 21% discount, with other subscription options beginning at $110. Student tickets are $12 with valid ID. Tickets may be purchased online at www.rembrandtchambermusicians.org or by phone at 872-395-1754.
NOTE: Subscribers and paid single-ticket holders can access online streamed performances of all Rembrandt's concerts in the 2021–2022 season. Rembrandt Chamber Musicians will be following CDC, state, and local guidelines. Proof of vaccination will be required to attend 2021-2022 season events.
Rembrandt Chamber Musicians 2021-2022 Calendar Listings
Holiday Baroque 2021
Sun., Dec. 5 | 3:00 pm | Alice Millar Chapel
BACH: Prelude and Fugue in G Major, BWV 541
MONTEVERDI: Laudate dominum in sanctis eius, SV 287
Marco UCCELLINI: Aria sopra "La Bergamasca"
CORELLI: Concerto Grosso in G Minor, "Christmas Concerto"
BACH: Preludio from Violin Partita No.3 in E Major, BWV 1006
CHARPENTIER: In nativitatem Domini canticum, H. 416: Nuit
VIVALDI: The Four Seasons, Violin Concerto in F minor, RV 297, "Winter"
The Schumanns' Fairy Tale
Fri., Feb. 4 | 7:30 pm | The Cliff Dwellers Club
Sun., Feb. 6 | 3:00 pm | Nichols Concert Hall
Robert Schumann: Märchenerzählungen, op. 132
Robert Schumann: Fantasiestücke, op. 73
Clara Schumann: Three Romances for Violin and Piano, op. 22
Robert Schumann: Piano Quartet in E-Flat Major, op. 47
War of the Romantics
Fri., March 11 | 7:30 pm | The Cliff Dwellers Club
Sun., March 13 | 3:00 pm | Nichols Concert Hall
Brahms: Horn Trio in E-Flat Major, op. 40
Felix Draeseke: Quintet in B-flat Major, op. 48 for piano, strings, and horn
Souvenirs
Sun., June 12 | 3:00 pm | Nichols Concert Hall
Bernard Herrmann: "Souvenirs de Voyage"
Tchaikovsky: String Sextet in D Minor, op. 70, "Souvenir de Florence"
Photos are courtesy of Rembrandt Chamber Musicians