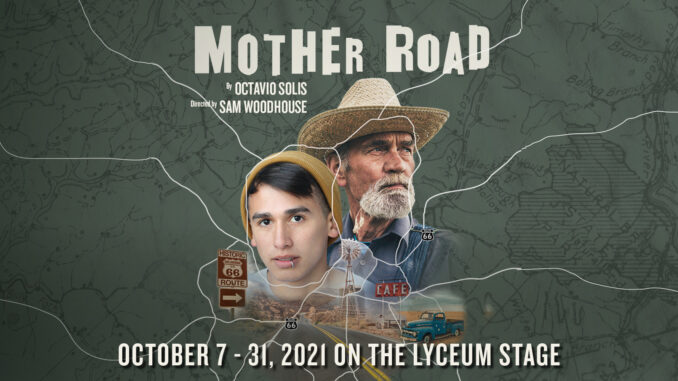 Review By Kathy Carpenter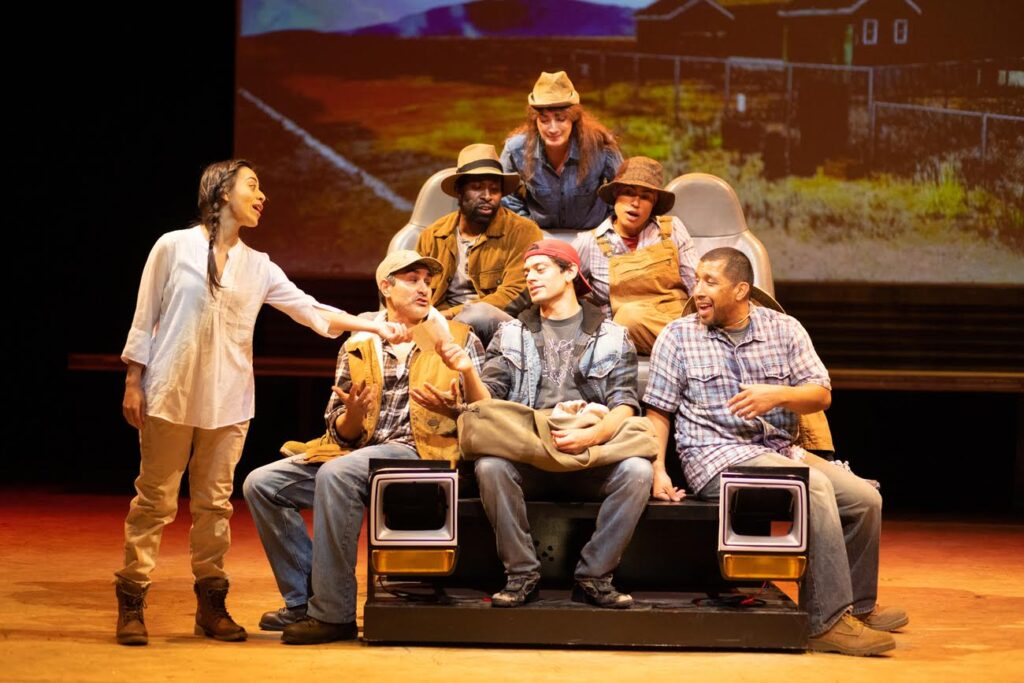 The San Diego Repertory Theatre, the Lyceum, known as the House of Stories, welcomes us back to the theatre with, "Mother Road," with masterful storytelling, and a steal your heart cast. Based on the John Steinbeck 1939 novel, "The Grapes of Wrath," the play is written by Octavio Solis, one of America's prominent Latinx playwrights of our time. Directed by Sam Woodhouse, this play offers a fresh perspective on an age old problem. Although, some cultures are harder hit, none of us is immune. Everyone has something for which they can be bullied, tortured, or generally disrespected.
Mother Road, is route 66, so named by Steinbeck. This story is about William Joad, the great grandson of Steinbeck's Tom Joad. The story has Will tracking down the only surviving Joad in Arvin California.  After convincing young Martin to come to Oklahoma to check out his farm, the pair begin a road trip down route 66 to Oklahoma. While picking up a diverse group of vagabonds along the way, each character tells their own captivating story   We root for them.
While this play was well crafted, and peppered with humor and heart warming moments, one thing I personally did not care for was the artistic side. Most of the actors played more than one role, showcasing their talent. But when they weren't featured, they would surround the car voicing words that floated in the air. Most of the time I didn't get what they were saying, which was frustrating.
Mark Murphy, plays William Joad. a white man from Oklahoma, an Oakie, a strong lead, to which his fellow actors answered. Richard Jessie Johnson, took on the role of Martin Jodes, and his youthfulness paired well with Murphy.   In this story he is the Tom Joad character, fighting for justice when he feels someone is being treated unfairly. My favorite character was, Mo, a lesbian, played by Yadi Correa, so likable. She calls Martin cos, because he's always stood up for her and is like family to her. Then we have James, a young person of color, played by by Cedric Lamar, whom Martin has helped in the past. He has an amazing singing voice.but only sings one song. I could have listened to him all night. The other main character that  brings in a romantic element is Celeste Lunuza, playing Amelia, Martin's lost love.
Each person confronts people along the journey. The pursuers see them for what they can get and not for the person they are. No one is immune to the injustice but the group stands together through it all, and becomes a family of their own.
Octavio Solis, wrote the play commemorating the 75th anniversary of "The Grapes of Wrath," as a celebration of diversity. It is a relevant show for the times, and a must see if you feel strongly for the oppressed.
San Diego Repertory Theatre
Mother Road
Oct. 7 – 31, 2021
Horton Plaza, San Diego
619.544.1000
Next up
November 18 – December 5
The Second City
She The People