Petra, Jordan has often been called "The Red City," or the "The Lost City of Stone," or known for its famous backdrop in the movie, "Indiana Jones and the Last Crusade." Located in the southwestern corner of the Hashemite Kingdom of Jordan, this UNESCO World Heritage Site and one of the new "Seven Wonders of the World" was once a thriving trading center and the capital of the Nabataean empire between 400 B.C. and A.D. 106.
For thousands of years, Petra remained a lost city, unknown to the modern world. Discovered by Swiss explorer Johann Ludwig Burckhardt in 1812, visitors have come from around the globe to explore its magnificent and fascinating architecture. Thousands have come to photograph her, all at different times, to see how the light impacts the strata's of changing colors when the sun rises and sets.
As you begin to walk along the Siq, the main entrance to the Rose City, glorious stone monuments begin to emerge, still holding tight to their secrets from 2,000 years ago. Who were these people? How did they live? Literally carved from sandstone cliffs, the people built structures of religious worship as well as houses, open-air theatres, a museum and aqueducts for water.
Then the gorge opens up and you are standing front and center of the "Al Khazneh," which is Arabic for the "Treasury." Maybe you're waiting for Indiana Jones to appear. But after seeing pictures of this edifice for years, you cannot believe it's really right in front of you. It's so powerful, massive and intricately carved.  What treasures did it hold? Archeologists believe it really served as a two-story high tomb, but today, has left us the real treasure.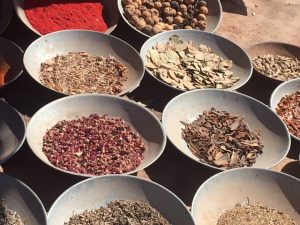 Continue on your walk as palaces, caves and waterway systems coming into view, one more fascinating than the next. Along the way, there are artisans selling spices, jewelry and meticulously- crafted sand art bottles. Our group spent some time with the spice man and learned about the history of these aromatic seasonings. The truly ambitious can climb up (or take a donkey) the 822 steps to the magnificent Monastery, carved out of the mountain. Prepare for stunning views over the surrounding valleys. Keep walking to see the pillars of the Hadrian Gate and the Cardo, which served as the ancient city's main thoroughfare.
For an awe-inspiring experience, go to "Petra at Night" where the site takes on a mysterious glow, lit by 1,800 candles. Follow the path through the Siq, and hear the haunting sounds of Bedouin music beckoning at the Treasury. Tours start at 8.30 p.m. and finish at 10.30 p.m. every Monday, Wednesday and Thursday.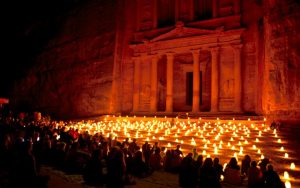 While archeologists continue to dig for more answers, Petra will hold continue to hold fast to its ancient secrets. For more information, visit myjordanjourney website.