There is one thing you can always count on from Veggie Grill, they will be creative and they will wow your taste buds regardless of whether you are vegan. If you have any doubt about that or you have friends that still have not experience Veggie Grill, the newly released winter menu will erase questions about the flavor and quality of food that they create.
Veggie Grill ventured into the burrito world with their fall menu and perfected the flavors so well that they came back with a new version that is so good that it will be a crime not to make it a part of the permanent menu. For the winter menu, Veggie Grill created the XX Fire-Roasted Chickin' Burrito, don't be scared off by the name, it does have a nice amount of spice and heat but it is palatable enough even for the faint of heart when it comes to spicy flavors. This burrito really gives you an authentic California burrito experience with plenty of grilled chickin' and cheddar 'cheese' as the focal points of this and then the flavors really take off with fire-roasted peppers and onions, cilantro rice, fire-roasted salsa and crema. They do not skimp on the size, you are likely to go home with leftovers. Make sure you enjoy the avo-salsa that comes on the side with chips, a wonderfully flavorful green salsa that is enhanced with avocado that is blended into the salsa.
Another great example of how well Veggie Grill has brought vegan food to the mainstream taste buds is their meatballs and polenta bowl. The meatballs are simply cooked perfectly as they have the moisture and texture of what you love in a homemade meatball. house-made Pomodoro sauce, bread crumbs, shredded parmesan 'cheese', basil and it is all served on top of a deep layer of rich and creamy polenta. The dish is finished off with braised kale, which is cooked extremely well, but it is one of those additions that is not for everyone so if that doesn't sound enticing, order it without the kale, but either way you definitely need to experience the wonderful Italian flavors in this dish.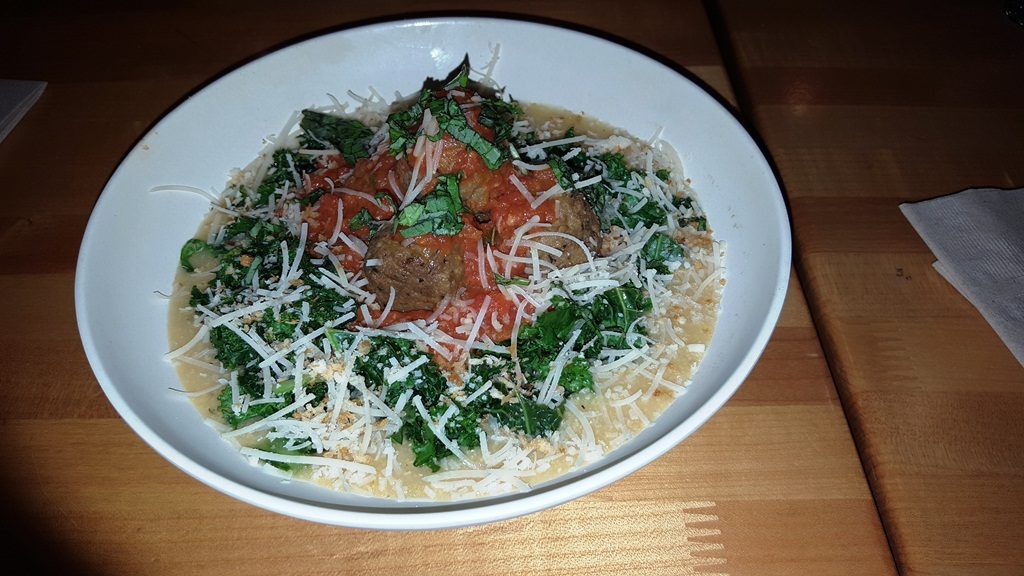 Veggie Grill also add two more appetizer type dishes to the menu, Southeast Asian lettuce wraps and butternut velvet soup. The lettuce wraps are wonderfully light and refreshing with lettuce leaves as base of your creation that allows you to pile on; shredded carrots, cucumbers, bean sprouts, cilantro to go with the protein base the is comprised of organic tofu, mushrooms, water chestnuts, scallions, cashews and crispy shallots. You then finally top it off with a slightly sweet and savory sauce that has a very Asian inspired feel to it. The butternut velvet soup lives up to its name as it is velvety smooth and gives you a very winter authentic butternut flavor that is finished off with pepitas, giving it a nice contrast in texture.
As usual, Veggie Grill never releases a menu item until it is perfect and this menu is no exception. With some new mainstream menu items on this menu, this not only gives the current Veggie Grill fan a chance to enjoy the latest and greatest, but it is the perfect opportunity to bring in a friend who has never tried Veggie Grill before and let them see just how good vegan food can be.
For more information, visit: Veggie Grill