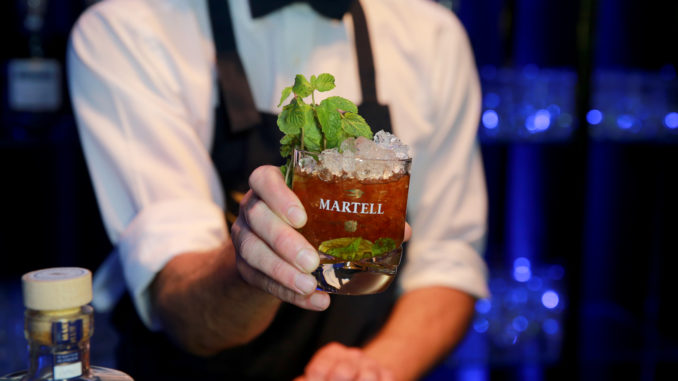 Grammy-nominated artist Jhené Aiko hosted the first-ever H.O.M.E. by Martell event in Los Angeles, celebrating the brand's newest product, Martell Blue Swift and the launch of its H.O.M.E. platform, which encourages home entertainment
Aiko presented her own distinctive vision of Martell's art of hosting, with different experiences in each room of the contemporary mansion. Highlights included a culinary experience provided by Ghetto Gastro, a signature cocktail created by Jhené using Martell Blue Swift and sound provided by DJ Millie and DJ Omega.
The decadent party in the Hollywood Hills not only provided one of the most spectacular views in the city, but guests were treated to the flavorful and smooth Martell Bule Swift. Martell's Cellar Master Christophe Valtaud presented the House's latest innovation at an exclusive cellar experience. Guests were also able to participate in a mixology class and were able to prepare and drink their own Mint Julep.
Throughout the evening, celebrity guests such as Quavo, Wale, Big Sean, Lana Del Rey, Jamie Foxx, Kelis, ASAP Ferg and more stopped by to celebrate.
There will be more private and invitation H.O.M.E. by Martell events coming up in the following cities; Chicago, Detroit, Washington D.C. and Houston. Even if you can't make your way into one of these parties, you should certainly experience the fabulous Martell Blue Swift and enjoy all the flavor that it brings to any cocktail.
For more information, visit: H.O.M.E. by Martell